This workshop is aimed at business leaders and marketeers who want to know how to make best use of their smartphone or tablet for creating commercial videos.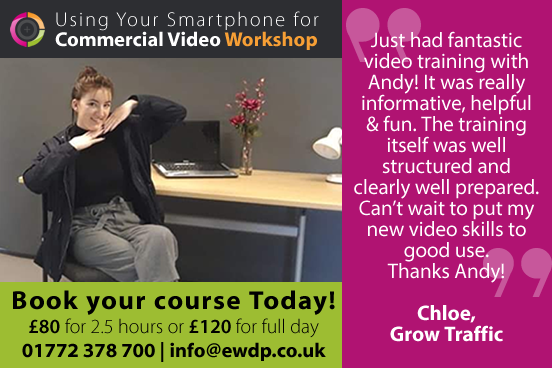 TRAINING AGENDA
Theory
Introductions and background knowledge
The pros and cons of Smartphones and when to use them
Preparation & Script
Choose Your Approach: Piece to camera (lens), Interview Style, Narrated slides, Q&A
Setting up the shot – what to consider & useful equipment:
Filming
Editing using Adobe Premiere Clip
Distribution
-- Comfort & refreshments break
Practice
Workshop – Putting it all into Practice
Work in pairs & pick 'interview' or 'Q&A'
Prepare the questions and answers for a 1 minute clip
Rehearse
Shoot an opening scene – set the context
Shoot the interview / Q&A
Edit the footage using Adobe Premiere Clip
Show and Tell
Conclusions & wrap up


Venue: Enterprize Studios, 2A The Mansions, School Lane, Longton PR4 5EB
Prices: The course is £95 for the condensed 2.5 hour version or £120 for a full day with more practice at filming and editing included.
Contact us to book the course for your business on a date to suit you (minimum of 2 maximum of 6 people per course).