Show What Your Nuresry, School or College is Made of
Virtual Tours - The New Normal
At Enterprize, we believe that schools are made up of so much more than bricks and mortar. We believe that it is the people - staff, pupils and parents that make a school come alive.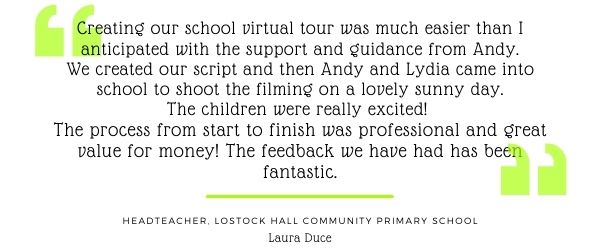 Does your school want to leave a lasting impression that can showcase your schools values, syllabuses and facilities? Stand out against other competitors with an unprecedented experience. Virtual tours and inductions are becoming the 'new normal'. Parents moving into the area may find it difficult to visit the school in person and a video showing off your nursery, school or college can help them choose what's right for their child.
Your virtual tour / pupil induction can leave a lasting impression that showcases exactly what your school has to offer, whilst giving current pupils and staff the opportunity to voice how brilliant your school is!
We will create a unique and immersive experience for prospective pupils, parents and future staff, tailored just for you.

The Process

What To Expect From Us
We will hand-hold you through the process from start to finish. Typically the stages are as follows:
Consultation - We will talk to you about your budget, goals, target audience and what we can do for you
Script writing/ Planning - We will support you in writing a script. On the day of filming we will put the script on the teleprompter for your staff / pupils to read - so there's no need to learn your lines!
Schedule - In order to minimise disruption to your school day we will work with you to plan a filming schedule that covers all the aspects of the building, school grounds, subjects, staff, pupils, school displays, ethos, uniform, school day, school activities and facilities on offer. We don't need to film in the order in which it is scripted and will work with you on staff / pupil availability.
Filming - We expect filming to be spread over several days. Weather, background noise, daylight, classroom and staff / pupil availability, all affect how much we can get done in a day. We will need somewhere secure to store equipment.
Drone - External establishing / cut-away shots using our drone can provide enhanced visuals of your school / nursery building and grounds. Rest assured our pilot is fully insured and qualified.
Edit - We will take the footage and edit together a high quality video that shows off your college, school or nursery in the best possible light. It will incorporate video, stills, school logo, music, titles, subtitles and contact details.

Share - The video file will be sent to you to distribute and share on any platform of your choosing. We can also host it on our own YouTube channel or we can set you up with your own. The video can be made public or shared as a private link - the choice is yours.
Pay-per-click (PPC) Advertising Campaigns - It is vital that your investment in video reaches your target audience. Sharing the video on social media will only get you so far but with a targeted advertising campaign on Facebook or Google we can ensure your video (or a cut-down version) reaches the parents / pupils you're wanting to reach. Let us know if you would like us to include this option or need further information.
Your virtual tour can leave a lasting memorable impression on all those who watch it, all whilst reaching a wider audience from the comfort of their home.
For a free no obligation meeting, contact Andy on:
01772 615202 | 07812 632476
This email address is being protected from spambots. You need JavaScript enabled to view it.

Examples of our work:
Balshaw Lane Community Primary - Virtual Tour
Cop Lane CE Primary - Virtual Tour
Pupil Induction Video Production Projects include:
Balshaws CE High School, Leyland
Virtual Tour Video Production Projects to date include:
Leyland St James Primary
Leyland St James Nursery
Lostock Hall Community Primary & Pre School
Cop Lane CE Primary, Penwortham
Balshaw Lane Community Primary, Euxton