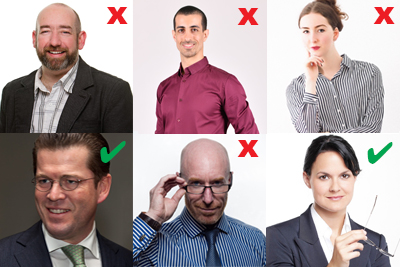 Business head shots help to humanise your business and quickly communicate who you are. Take a while to consider how you want to appear in your image. Depending on your business, you might want to come across as being creative, friendly, formal, or trustworthy etc. Obviously, the focus for your headshot should be your face. Everything else, including the background, lighting and clothing, should be kept simple to keep the attention on your face.
If you're thinking of updating your business headshots, here are some tips to help you decide what to wear.
Colours
Patterns or prints draw attention away from your face, and can make your photo look dated. Avoid busy patterns, fine stripes and check as it causes interference with the camera It's always best to stick to plain colours for your headshot. Don't wear anything too bright or too pale. Bright colours detract attention from your face, and creams, beiges, pastels, peaches or yellows can cause your clothes and face to merge into one. Blues, purples and greens in mid-tone colours are flattering for everyone.
Remember that the location of your business headshot photo shoot will also have a bearing on what outfit you should choose. It goes without saying that if your backdrop is light, wear a dark colour and vice-versa. Black can be seen as solemn or overly cautious, which may not be the look you're going for. Blue is a trusted colour for business profile shots. If you like neutral colours, stick with navy, maroon or brown. Also, jewel tones work extremely well, especially when they bring out your eye colour.
Neckline
Exposed shoulders on head shots are a no-no, so make sure your top has sleeves. For the ladies, v-neck blouses are universally flattering because they lengthen the neck and display the collar bone. Fine knitted textures work well for a bit of texture, but don't go with anything too chunky. If you decide to wear a jacket, for women, a collarless top underneath will look modern and keep the neckline simple. For men, a shirt and tie is fine, or if you want a more informal look, an open collar.
Jewellery
Again, keep it simple. An understated necklace and classic, small earrings are best, if you choose to wear them. Large, statement jewellery will date your photos and detract the attention away from your face.
Makeup
Keep any makeup tasteful and subtle. Avoid bright red lipstick, smoky eye shadow, or anything else that doesn't look natural. The key is to let your makeup enhance your features; it shouldn't be the focus of the image. If you look fresh and natural you're doing it right. If you look liked you've caked it on, start again. Bring some light foundation if your skin starts to perspire under the lights.
Pose
When angles are used correctly, they can create shadows that can make you look slimmer. The best angle for a business headshot is to turn one shoulder to the camera, keeping your body at a slight angle. To avoid a double chin, jut your head forward (only slightly, you're not a tortoise) and tilt your chin down a little. It might feel odd, but it will make your jawline tighter.
Smile
You may find it difficult to relax while you're having your photograph taken, but the absolute key to an amazing business headshot is your smile. Don't worry if you're nervous before you arrive, as our photographer will put your mind at ease and ensure that your anxiety doesn't show in the images. A great piece of advice is to look right down the lens of the camera whilst thinking of someone you love. That feeling will show in a genuine smile that will reach your eyes.
Enterprize Studios have years of experience of taking business headshot photographs, and can ensure your complete satisfaction with your images. You can expect approximately 100 shots to be taken during your session, which will include various angles and lighting options. There may be time to change your clothing, depending on the length of the shoot. Basic retouching of your selected images, which can eliminate any blemishes or wrinkles, can be included at no extra cost.
We hope you found these tips on what to wear for business headshots helpful. If you would like an informal chat about updating your headshot images, just give us a call.